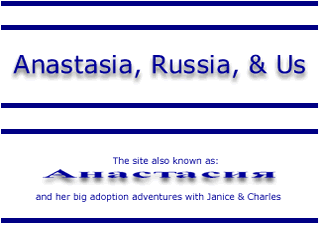 Home | 1st trip 1st page | 1st trip 2nd page | 1st years at home | Post Adoption Reports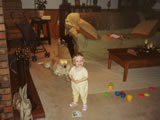 ~ ~ [CLICK on a PICTURE for MORE] ~ ~
Our court date was August 26th at 11:30 AM in Khabarovsk.
After three days, we were able to pick up Ana from the orphanage.
Russia has a ten day waiting period on adoptions. On September 6th, Ana was officially ours!
On the 9th of September, we applied for and received her Russian passport.
Later that day we flew to Moscow. On the 10th, we received her visa to the US
from the U.S. Embassy. On the 12th, we flew home --so good to be back home again!
It was during this trip that we started calling her Ana, rather than her previous nickname of Nastia.
She took to the name change easily.
[DOB: 11 October 2000]


Kudos:
Kathy Boggs and Ruth Neill at Families First, Leo Semenov at tear.org, Wendy Stricklin (Lawrenceville),
Andrei (Moscow), Natalia & her husband Sergei (Khabarovsk), Julia (Khabarovsk), Irina (Khabarovsk),
Natalia (again) & her son Sergei (Komsomolsk), Olga Byrnes at AIAA,
the good folks we met along the way,
and all of our family and friends.
Additionally, our pets want to thank those kind hearts that went out of their way to tend to them.

Send correspondence to:

Home | 1st trip 1st page | 1st trip 2nd page | 1st years at home | Post Adoption Reports
Map of Russia | Russian Time | Russian Weather
Russia.com | More on Russia
US Embassy re: Russian adoption | Grants | Russian Embassy


Links may open in a new window - close to return.

© 2002 - 2005 Charles Rogers